WordPress Site Design
WordPress is an amazing content management system (CMS) and is very customizable. It's SEO-friendly and is easy to use. It gives you the ability to easily revise and add new content to your site. WordPress is the largest open source web design platform in the world and has more features and "add on" functions than any other design platform. If you want to only build your website once and wish to have 100% assurance that it will remain up to date with the ever changing online times, then you want your website built on the WordPress CMS design platform.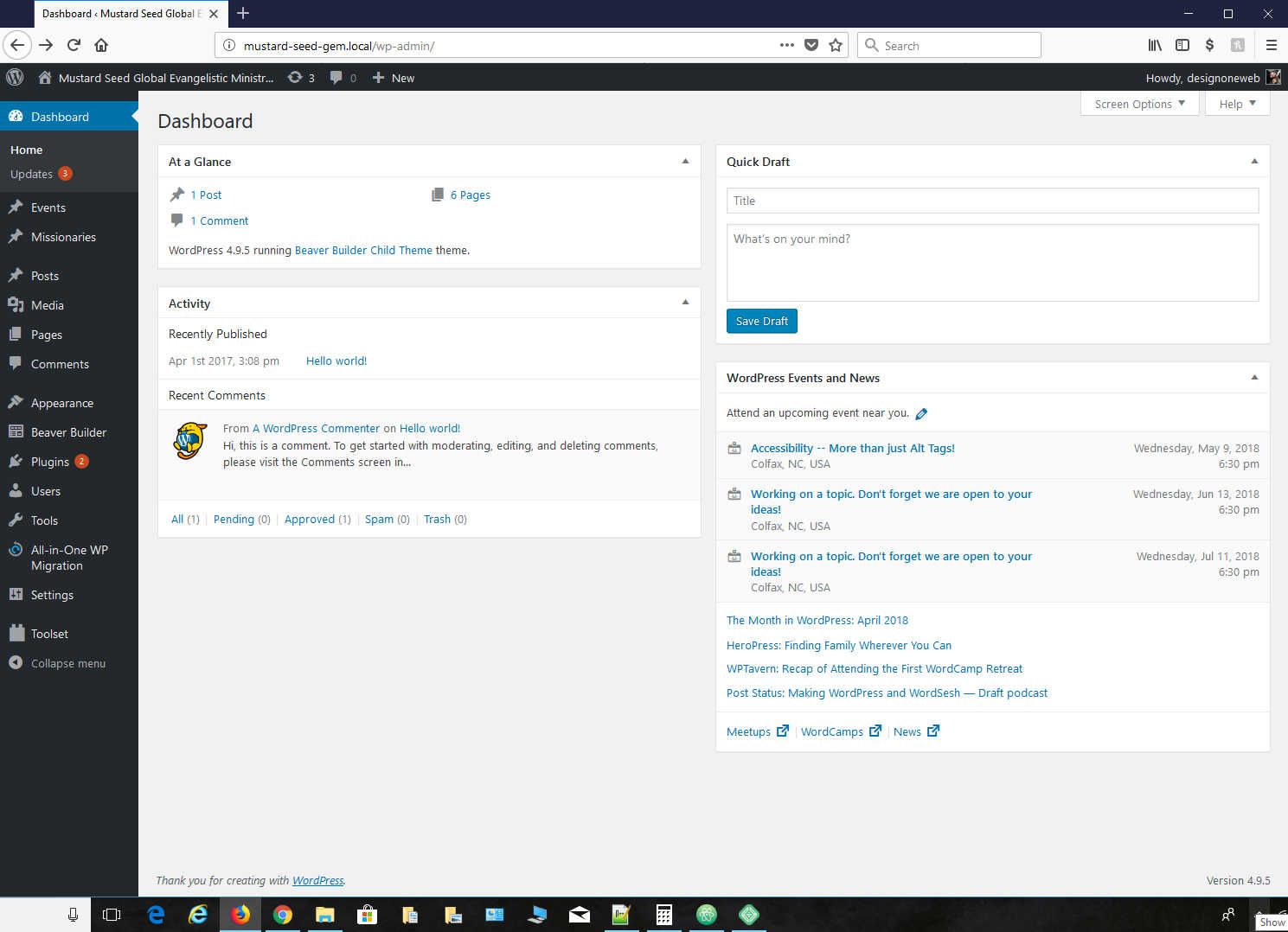 Do I Need a WordPress Site?
If you plan to update content or add content to your site on a regular basis, you probably need a site built around a content management system (CMS). That makes WordPress the most obvious choice as the most popular and widely supported CMS in the world. Anyone who can write an email or use a wordprocessor and quickly learn to manage the content on a WordPress site.
WordPress should also be one of the first platforms you consider if you plan to offer products or services for sale online. The developers of WordPress also make one of the web's most popular eCommerce solutions, WooCommerce.
The open-source nature of WordPress also means that there are thousands of plugins available to add more functionality to your site. All without the need to no how to code. Do you need to manage events, event sign-ups, and sell event tickets on your site? There's a plugin for that. Do you want to offer the knowledge you've gained through the years as online courses? There's a plugin for that, too. If you can think of if, someone has probaly developed a WordPress plugin for it. And many are free or low-cost.
Everything's not sweetness and light in WordPress Land, though. Because so many sites are built on WordPress, WordPress sites a favorite target for hackers. Take steps to protect your site. First, make sure you pick a good hosting provider. Second, make sure you keep WordPress, your theme, and your plugins up to date. This can be time-consuming, but we can help.
What Do I Get with Your Starter Package?
Our WordPress Starter Package gives you everything you need to have a modern, professional pressence on the web. In as little as 7 days, we'll provide you with a site that looks great on any device and includes:
Up to 10 pages
A customized contact form
Valid SEO mark-up
2 hours of training via screencast
1 revision round
45 days of WordPress security maintenance
In order to provide this service at the incredibly low price of $599, there are some limitiations. You will need to provide all of the content for the site. This includes logos, graphics, photos, and page copy. We can pull all of this from your current site or you can provide it to us by email or upload. Our Starter Package also doesn't include advanced functionality, such as eCommerce capabilities, or web hosting.
If you need help with logo design, content creation, ongoing WordPress maintenance, or online store set-up, take a look at our additional services. We can provide all of these a la carte at very competive prices.
WordPress Sites for Winston-Salem, NC and The Piedmont Triad
We've built mobile-friendly WordPress sites for many businesses and organizations in Winston-Salem and the surrounding area. To see a few, take a look at some of the sites below under "Examples of Our Work." From the best catering company in Winston-Salem to a small community pool, no project is too big or too small. Maybe you're just starting a business in Winston. Maybe you've been in business for decades and have never had a website or need your site refreshed. It doen't matter. If you have or need a WordPress site, we can help you with it. And we'll do it fast, right and at a price you can afford!
I'm Ready! Build My Site!